Christmas came early to 100 traffic enforcers of Bacolod City, who received gift packs from SM Bacolod over the weekend, as part of SM Supermalls' 100 Days of Caring.
This year's selection is SM City Bacolod staying true to its commitment to support and serve their communities, most especially frontliners in the COVID-19 pandemic.
Mall manager George Jardiolin led the SM Cares volunteers in the distribution of food packs and grocery items to 100 traffic enforcers assigned at different intersections and street junctions of Bacolod.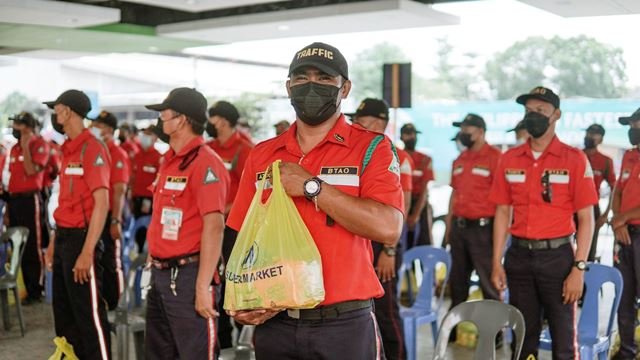 Traffic chief, P/Major Ruel Culanag, thanked the mall for selecting the traffic enforcers for its 100 Days of Caring campaign.
"These early holiday cheers will help boost the morale of the men and women, who direct our traffic and brave the elements every day in doing their work," Culanag said in a press release from the mall.
Jardiolin also thanked the traffic enforcers for their assistance to motorists and pedestrians, adding that the community can benefit greatly when the flow of traffic is smooth and well-directed.
"It is, indeed, a joint effort of civilians and law enforcers to abide by traffic rules and regulations for the betterment of our community," he said.
SM Supermalls also previously held a virtual Christmas Countdown, marking 100 days to Christmas Day, where the 100 Days of Caring campaign pledged donations to over 10,000 beneficiaries nationwide, to include communities in need, frontliners, and dedicated delivery partners.
"Many of us are worried, wondering about tomorrow. But just like you, we have faith that there will be better days ahead. It is a time to be generous, to be kind, to care for each other, and most of all, to not let this health crisis dampen our spirit," said Steven Tan, SM Supermalls president, during the virtual launch.
The gift-giving was also in time for the supermall chain's Founder's Weekend, a celebration in remembrance of SM founder, the late Henry Sy Sr. | NND